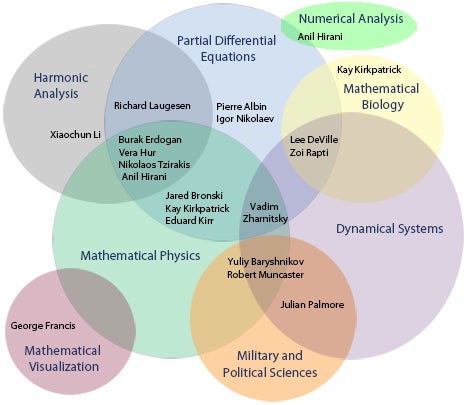 Seminars
Harmonic Analysis and Differential Equations Seminar
Mathematical Biology Seminar
Mathematics in Science and Society
Social Events
We meet for lunch every Tuesday, and for beer some Friday afternoons. Graduate students, postdocs, and faculty from related departments are welcome too. Contact the area chair if you would like to be added to the mailing list for these gatherings.
Research Area Information
We are always seeking graduate students to join our group. Are you ready to take a reading course, or choose an adviser? Please come and talk to one of us, or contact the Area Chair (Anil Hirani, 2016-17) for an overview of the opportunities.
Current graduate students (and adviser):
Iftikhar Ahmed (Rapti)
Jooyeon Chung (Laugesen)
Lin Cong (DeVille)
Dong Dong (Li)
Timothy Ferguson (Bronski)
Benjamin Fulan (Baryshnikov)
Alessandro Gondolo (Baryshnikov)
Lisa Hickok (Baryshnikov)
Hee Yeon Kim (Kirr)
Artur Kirkoryan (Baryshnikov)
Nicholas Kosar (Baryshnikov)
Melinda Lanius (Albin)
Haojian Li (Kirkpatrick and Rapti)
Shiya Liu (Laugesen and Mehta)
Michael Livesay (DeVille and Hur)
Ashish Pandey (Hur)
Shinhae Park (Rapti)
Hadrian Quan (Albin)
Vanessa Rivera Quiñones (Rapti)
Vlad Sadoveanu (Kirr)
Mark Schubel (Hirani)
Ebru Toprak (Erdogan)
Lan Wang (Bronski)
Xiao Wang (Baryshnikov)
Argen West (Zharnitsky)
Recent postdoctoral researchers:
Ikemefuna Agbanusi (2013-2016; Bronski)
Maxim Arnold (2012-2014; Baryshnikov and Zharnitsky)
Vasilis Chousionis (2012-2014; Erdogan and Tyson)
Ruth Davidson (2014-2017; Reznick)
Bartlomiej Siudeja (2008-2011; Laugesen)
Gang Zhou (2012-2013; Erdogan and Tzirakis)
Recent graduate students (2008 and later):
Erin Compaan (PhD 2017;Tzirakis)
Xiumin Du (PhD 2017; Li)
Tayyab Nawaz (PhD 2017; Kirkpatrick)
Meghan Galiardi (PhD 2016; (DeVille)
Jordan Hasler (PhD 2016; DeVille)
Ki Yeun Kim (PhD 2016; Zharnitsky)
Stephen Berning (PhD 2015; DeVille)
Seckin Demirbas (PhD 2015; Erdogan and Tzirakis)
Kaushik Kalyanaraman (PhD 2015; Hirani)
Han Wang (PhD 2015; Baryshnikov)
Sishen Zhou (PhD 2015; Baryshnikov)
Sarah Son (PhD 2014; Laugesen)
Chris Bonnell (PhD 2013; DeVille)
Thomas Carty (PhD 2013; Muncaster)
Faruk Temur (PhD 2013; Erdogan)
Charles Ying (MS 2013; Zharnitsky and Liberzon)
Nana Arizumi (PhD 2012; DeVille and Coleman)
Yi Hu (PhD 2012; Li)
Vivek Natarajan (PhD 2012; Kirr)
Ruth Skulkhu (PhD 2012; Kirr)
Andrew Vlasic (PhD 2012; Muncaster)
Dashiell Fryer (PhD 2011; Muncaster)
Inmi Kim (PhD 2011; Laugesen)
William Green (PhD 2010; Erdogan)
L. Mercredi Chasman (PhD 2009; Laugesen)
Marc Harper (PhD 2009; Muncaster)
Mathew Johnson (PhD 2009; Bronski)

Ozgur Mizrak (PhD 2009; Kirr)

Evan VanderZee (PhD 2009; Hirani and Zharnitsky)