Important Information for Students
Image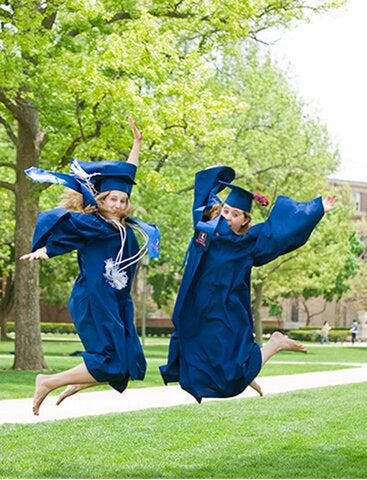 Sunday, May 14, 2023
9:30 a.m. – 11:00 a.m. (Doors open to guests at 8:30 a.m.)
Virginia Theatre, 203 West Park Avenue, Champaign, IL 61820 
Watch: Livestream of the Mathematics Convocation Ceremony
The Department of Mathematics is excited to announce that our Convocation Ceremony for all Undergraduate, Masters, and PhD students will be held in person in the historic Virginia Theatre in downtown Champaign. Names of all graduating students attending the ceremony will be read in order by degree. Convocation programs with all students on the graduation list will be handed out to guests (please note that students who add their names to the graduation list late may not have their names printed in the program).
Guest tickets are required for the ceremony. Mathematics is guaranteeing four (4) guest tickets per graduate, and requests for more than 4 guests will be considered after registration for convocation ends. The ceremony typically lasts 1.5 hours, depending on the number of graduating students.
Academic Attire
All graduates and degree candidates participating in the Mathematics Convocation Ceremony are required to wear appropriate academic attire. University of Illinois Urbana-Champaign graduates must wear custom regalia designed specifically for the campus. Academic attire must be ordered between January 17 and April 20, 2023. Order by April 11, 2023 to take advantage of the early order discount. See this page for complete information.
Ceremony Information/FAQ
Registration to participate in the Convocation Ceremony begins Monday March 20, 2023 and runs through Friday April 14, 2023. The ceremony will be from 9:30 a.m. to 11:00 a.m. on Sunday May 14, 2023 in the Virginia Theatre, 203 West Park Avenue, Champaign, IL 61820.
Guest Information
Virginia Theatre will open for guests at 8:30 a.m., and doors will close (no guest admission) during the processional. Please arrive no later than 9:15 a.m. We would like to remind guests to respect all of the graduates by holding applause until after all names are read, so that no names are missed. We also ask you remain in your seats during the ceremony. Professional pictures are available, and students will receive information by email.
Register to Participate 
Register here by 11:59 p.m. CDT on Friday April 14, 2023 to participate in the Department of Mathematics Spring 2023 Convocation!
---
When/Where Should I Arrive?
Graduates should report to the Virginia Theatre from 8:30 to 9:00 a.m. to check in and line up. The check-in desk closes at 9:00 a.m. 
Guests should arrive between 8:30 a.m.– 9:15 a.m. at the Virginia Theatre.
What Should I Bring to the Ceremony?
Graduates should arrive wearing their regalia (including the white tassel, and not the souvenir orange and blue tassel) and will receive their reader card upon check-in.
*****All other personal items (backpacks, cameras, purses, etc.) should be left in your vehicle or with relatives or friends. We do not have a secure location for you to leave these items during the ceremony.*****
How Do I Get to Virginia Theatre/Where Can I Park?
Directions to Virginia Theatre are available at https://thevirginia.org/directions/ and information on parking is available at https://thevirginia.org/box-office/#parking.  
Note to Graduates
After you have registered to attend our ceremony, please complete the Illini Success Survey (http://go.illinois.edu/MyIlliniSuccess) as well as the departmental Senior Questionnaire, prior to the ceremony:
Additional Student Information
If you are a person with a disability who requires accommodation(s), please contact Chase Driskell (math-reception@illinois.edu) by May 2, 2023. Some accommodation requests (such as American Sign Language Interpreters) received after May 2, 2023 will be given due diligence to be filled but may not be guaranteed.
Additional information on certifying your degree and diplomas is below. At our Convocation Ceremony, you will receive a diploma cover. Your diploma will be mailed.
University-wide Commencement Ceremony Information
The University-wide Commencement Ceremony will be held Saturday May 13, 2023, 9:30 a.m. – 11:30 a.m. at Memorial Stadium. Information about the University-wide Commencement Ceremony and other related information (including congratulatory programs and special receptions) may be found on the Commencement website: commencement.illinois.edu.