Image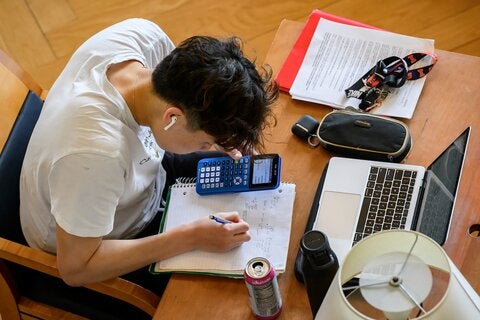 The Department of Mathematics at Illinois will roll out three new courses this fall, to provide support to students who need additional preparation to transition to higher education mathematics coursework. The courses will provide "on-ramp" instruction to students, to address educational losses resulting from the pandemic and to increase access to learning opportunities for historically underrepresented or underserved students.
The University of Illinois uses a placement exam to ensure students are enrolled in math courses they are academically prepared for. The new on-ramp courses are designed to benefit both incoming freshman on the cusp of course placement and currently enrolled students who need to withdraw or drop their mathematics course during the semester.
Alison Reddy, who serves as director of the math placement program at Illinois, notes that students from underserved populations are less likely to enroll in Calculus I, the ideal starting place for a mathematics coursework at Illinois (and a critical course for access to and success in the STEM disciplines).
To improve students' likelihood of success, Illinois will offer creative, structured courses to engage and prepare students for MATH 220, "Calculus," MATH 115, "Precalculus," and MATH 112, "College Algebra," beginning this fall. Reddy, who has more than twenty years of teaching experience in higher education gateway courses, led the development of these new courses.
Reddy says that a statistical marker for long-term success in a math course is performance on the first exam, which generally happens around four weeks into the semester. Students who decide to drop after the first exam could enroll again the following semester, but their chances of success were not likely to improve after several weeks without any mathematics instruction.
Until recently, students could choose to take a "late drop-down" within the same semester, enrolling in the previous course of a sequence, to refresh themselves on material before retrying the class that they had not been successful in.
"In theory, it was a good idea," says Alison Champion, associate director of undergraduate studies in mathematics at Illinois. "However, when administrators began looking at the data, allowing late drop-downs didn't seem to benefit students much."
By the time students enrolled in the stepped-down course, they had already missed the first four weeks of class; many students still struggled to keep up.
The Department of Mathematics stopped allowing late drop-downs beginning Fall 2023; instead, the new on-ramp courses will be available in the second half of each fall and spring semester. In these one-credit hour courses, students will receive eight weeks of targeted preparatory instruction, to increase their chances of success when retrying the course without delaying their degree completion.
"Students who drop after the first exam are not necessarily lacking in mathematical knowledge," says Reddy. She says they may be lacking in mathematical confidence, or they are overwhelmed by the significant jump in pacing from high school math to university-level math.
The on-ramp courses will teach key skills and mathematical foundations, with a particular emphasis on building healthy mathematical study habits to better engage with the material. Students will be graded on an "satisfactory/unsatisfactory" basis.
"We don't want students to focus on the grade; we want them to focus on the process," says Reddy.
"We have been very careful to set measurable goals with these courses, because we want to see them actually work," she also says. To evaluate the success of the project, Reddy and department administration will track outcomes for students who drop key gateway mathematics courses, to see if they later enrolled in an on-ramp course, and whether the same students were more successful when they retried the course they had originally dropped.
Reddy is excited about the impact that these courses could have. Ideally, she says, these courses will help students gain confidence not only in their mathematical abilities, but in their ability to work through all kinds of obstacles.
"Students may not realize it, but the first year of university is hard for everybody, for so many reasons," says Reddy. "And when things are difficult, we all need support."
The on-ramp courses for MATH 112, 115 and 220 will roll out this fall, starting October 16, 2023. To enroll in these courses, students should email math-advising@illinois.edu.
Source: Alison Reddy, Senior Lecturer and Director of Illinois Math Placement Program, Department of Mathematics
Writer: Shelby Koehne, Communication Coordinator, Department of Mathematics