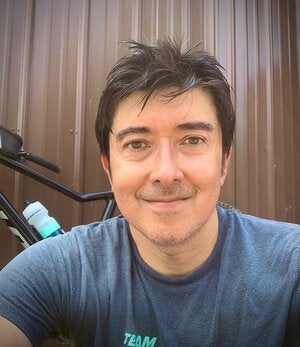 Aldo Manfroi is a senior lecturer in mathematics, and he comes highly rated by his students. But his journey to working within the Department of Mathematics at UIUC wasn't always so clear cut.
"I've always liked math, ever since I was a kid," says Manfroi. "I really liked how rigorous it is and how logical it is, how you can prove things clearly." All throughout school in Italy, where he grew up, he was sure that he would study mathematics in college. But the summer before college started, Manfroi started to think that perhaps mathematics was too abstract for the career he envisioned. "I was young and at the age where I thought I would want to do something practical for the world," he says, "so I decided to switch to physics." In fact, Manfroi's undergraduate degree is in physics; his thesis on chaos and turbulence.
He went on to graduate-level studies at the Scripps Institution of Oceanography at the University of California at San Diego, and later he landed a postdoctoral research position at the University of Illinois. Manfroi says that though he found some successes in his research career—including publications in the journal Physica D: Nonlinear Phenonema—he started to feel that research wasn't for him. As he puts it, "I like to solve problems or study them, but not necessarily find new ones."
He began to look around for other opportunities. The Department of Mathematics offered him a part-time position teaching, so he decided to try it. The experience helped him discover how much he liked teaching. "I said to myself, maybe you should have been doing this all along."
Manfroi has since moved on to teaching full time and has become one of the most highly rated instructors in the department among students. He says he felt the process of publishing research came with a lot of uncertainty, but to him, teaching is a different story: "I get to class, and fifty minutes later, I have done something, something tangible. The students have learned something new." He found that kind of immediate feedback exciting: "I can make a difference—even if it's not big—every day."
Though he primarily teaches differential equations and linear algebra, Manfroi has also taught Calculus II and III. Most of the students he teaches are engineers, so they'll use the information practically once they move on from the class. He supposes he's lucky to teach mathematics to that cohort of students. "They're good at it; they want to learn it. If you explain it well, they will get it," he says.
For Manfroi, explaining something well usually means approaching a complex topic from multiple angles. As an example, teaching linear algebra often means teaching concepts that are very abstract—but he finds that as he delves into examples of how the concepts are applicable to various topics or subject areas, students gain a greater appreciation for the curriculum. Another important facet of teaching mathematics, he says, is getting feedback from the students in real time and being adaptable with his approach to teaching complex topics. His methodology seems to be effective: since 2019, he's consistently made the List of Teachers Ranked as Excellent by Their Students, as reported by the Center for Innovation in Teaching & Learning.
Among the many practical skills Manfroi imparts to his students, he has this advice to offer: "I try to tell my students, it's nice that some people know what they want to do, and they just follow that line. But for many people, life doesn't work that way. There are many different turns, and it can turn out well even if you end up doing something different from what you planned to do. One needs to be open to many different possibilities." Manfroi says though his life path diverged in ways he didn't quite expect, it took him somewhere satisfying. "It's been an interesting journey."
Shelby Koehne
12-12-22