Analytic and Combinatorial Number Theory:
The Legacy of Ramanujan

June 6-9, 2019
University of Illinois at Urbana-Champaign
A conference in honor of Bruce C. Berndt's 80th birthday
The conference Analytic and Combinatorial Number Theory: The Legacy of Ramanujan will be held at the University of Illinois at Urbana-Champaign from June 6-9, 2019. The topics for the conference include all areas of number theory, with a focus on those areas that have been influenced by Srinivasa Ramanujan.
Information on registration, contributed talks, funding, and travel can be found under the above links.
Confirmed Invited Speakers
Krishnaswami Alladi (University of Florida)
George Andrews (Penn State University)
Kathrin Bringmann (University of Cologne)*
Heng Huat Chan (National University of Singapore)
Shaun Cooper (Massey University)
Sylvie Corteel (CNRS and Université Paris-Diderot)*
Atul Dixit (Indian Institute of Technology Gandhinagar)
Amanda Folsom  (Amherst College) 
Frank Garvan (University of Florida)
Sun Kim (University of Cologne)
Amita Malik (Rutgers University)
Ken Ono (Emory University)
Peter Paule (Johannes Kepler University Linz)
Armin Straub (University of South Alabama)
Ole Warnaar (University of Queensland)
Kenneth Williams (Carleton University)
Ae Ja Yee (Penn State University)
*tentatively confirmed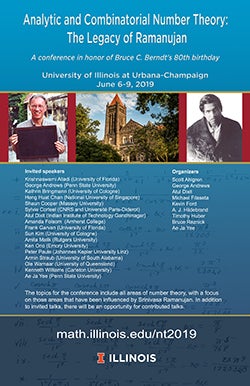 Organizers
Scott Ahlgren
George Andrews
Atul Dixit
Michael Filaseta
Kevin Ford
A. J. Hildebrand
Timothy Huber
Bruce Reznick
Ae Ja Yee
Contact
For further information, contact the local organizers at nt2019@math.uiuc.edu.