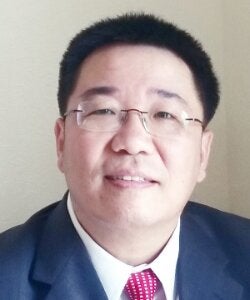 Contact Information
Department of Mathematics
273 Altgeld Hall
1409 W. Green Street
Urbana, IL 61801
Research Areas
Biography
I am a Lecturer of Mathematics. I am specialized in Algebraic Geometry. Algebraic Geometry occupies a central place in modern mathematics and has multiple conceptual connections with such diverse fields as complex analysis, topology, and number theory. I serve as a committee of NMC Math Competition for secondary education. NMC is National Math Competition which is one of Math Olympiads. I have 20 years of College level Mathematics teaching experience from Calculus to advanced Math Courses such as Linear Algebra, Abstract Algebra, Real and Complex Analysis, Geometry. I professionally teach all the courses of Algebra, Analysis, Geometry, and Topology.
I have four kids and my wife is also a mathematician. Her speciality is Fractal Geometry in analysis. I go to church every Sunday with my family.
I am a professional Latex user. 
Research Interests
Algebraic Geometry and Arithmetic Geometry
Tate conjecture and related problems
Research Description
Developing new Cohomology theory in Arithmetic Geometry, Describing the structure of the closed subvarieties of a smooth irreducible (over the algebraic closure of k, so called geometrically irreducible) projective variety over a finite field k = Fq , Curves in the projective space P3 and intersection of surfaces, Describing the moduli spaces of vector bundles and maps over algebraic curves
Education
Ph.D. Mathematics, University of Illinois at Urbana-Champaign
Awards and Honors
Outstanding contribution to 2016 NMC
External Links