2021 Commencement
UIUC's 2021 Commencement will include both an in-person individual, private Stage Crossing experience and an online celebration featuring a virtual conferral of degrees. Be sure to check the university's commencement website for the most up-to-date information on the university's 2021 Commencement.
Save the Dates
May 10–17
Commencement Stage Crossings
Learn more → 
Saturday, May 15, 12 p.m. CDT
University-wide Online Commencement Celebration
Learn more →
Convocation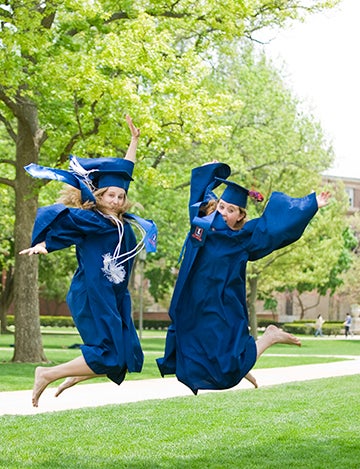 Students graduating with degrees from the Departments of Mathematics and Statistics are invited to participate in a Convocation Ceremony. This ceremony is only for:
Graduating Seniors on the May 2021 pending degree list (or who plan to finish in August 2021) in Actuarial Science, Mathematics, Mathematics and Computer Science, Statistics, Statistics and Computer Science

MS and PhD Candidates in Mathematics and Statistics

Graduates awarded degrees in August or December 2020 (and who did not participate in Winter Convocation)
Due to the ongoing COVID-19 pandemic, the 2021 Departments of Mathematics and Statistics Convocation will be virtual. Even though we cannot celebrate in-person, we want to acknowledge all the hard work and accomplishments our graduates have achieved throughout their years at UIUC. To help us create a more personalized experience, eligible student are requested to please fill out the 2021 virtual convocation video form. The deadline for submissions is Monday, April 19, at 11: 59 p.m. CT. 
The celebration video will launch during commencement weekend. Stay tuned for more details.
If you have any questions regarding the 2021 virtual convocation form or the 2021 Departments of Mathematics and Statistics Convocation, please contact Staci Walker at sdw@illinois.edu.